Support our work
There are several ways you can support our work and make a real difference to the lives of people living with or affected by HIV.

Individual charitable donations are always welcome; they are the bedrock of support for many small charities. You can support our work in other ways. Why not volunteer with us or join our Board of Trustees?

An easy and fun way to support our work is through your social media channels. Follow us, like and share our postings to help us reach as many people as possible.
Donate
We are very reliant on the generosity of those who support our work through individual charitable donations. As a registered charity in England and Wales we benefit from the HMRC Gift Aid scheme which means for every £1 donated by a UK taxpayer we receive an extra 25p.
Visit our donation page

Visit our fundraising page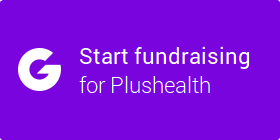 Donate with Amazon Smile
Benevity – workplace giving
If the organisation you work for is registered with Benevity Community Impact Fund any donations you make to Plushealth will be matched by your employer. As an example, if you donate £25, Plushealth will receive £50, less a small percentage, depending on what the company has agreed with Benevity. To find out more and register as an employee with Benevity contact your HR department.

Volunteer with us
Volunteering is a practical way to support our work. We have a variety of volunteer roles which we advertise from time to time. We greatly value the time, dedication and skills our volunteers bring to Plushealth. Keep an eye out for our volunteer role adverts or you can register your interest HERE We'll be in touch when a suitable volunteer role becomes available.

Become a trustee
Becoming a trustee is an extremely valuable and rewarding way to support a charitable organisation and provides an opportunity to use your knowledge and skills for the wider public benefit. We expect to advertise and recruit new Trustee at least once a year. You can register your interest HERE at any time and we'll be in touch to discuss things further with you.

Follow us on social media
Help us spread the word by following us on Twitter, Facebook Instagram and YouTube. We don't have much of a budget to spend on advertising and we use social media to help us raise awareness of our work. By actively engaging with our social media channels you can make a big difference to encourage people living with or affected by HIV to engage with us. You can also support our fundraising efforts by sharing and re-tweeting and in doing so increase awareness of HIV and sexual health.

Regardless of the way you decide to support us we are very appreciative and thank you in advance!